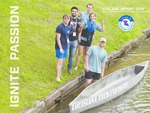 Description
Dear COES Friends,
I would like to thank you for your continued generosity and commitment to the College. Your giving, both financially and through interactions with our students has helped us continue to provide an unparalleled educational experience for our students.
As I write this message, we are preparing for the 2019 COES Senior Projects Conference. Each senior will present the products or findings of his or her senior capstone project in a conference setting. Many of you take time out of your busy schedules to attend this event each year, and your participation gives the students valuable experience speaking to experts within their fields.
In this report, we highlight a few examples of the innovative leadership and research being conducted by our faculty and students. Among these highlights, you'll find a spotlight on Electrical Engineering senior John Aguillard, who will make a presentation at the conference and discuss his team's results on their attempt to set the world record for unmanned aerial vehicle autonomous flight. Professors like Dr. Joan Lynam and Dr. Arden Moore, also featured in this report, continue to provide research opportunities that help students like John grow into the problem solvers of the future.
Within this report, you'll also find a spotlight on the 2019 Deep South Conference, which the Louisiana Tech chapter of the American Society of Civil Engineers/American Institute of Steel Construction organized and hosted. Leaders within the organization did an exceptional job making sure the conference was successful and are working on plans to compete at nationals this summer.
I invite you to visit our website to discover more stories about the amazing successes that our faculty and students have achieved this year. Many of those successes have been funded through your donations and motivated by your engagement with the students. You have provided startup funds for research labs and materials for hands-on projects that help propel our students to national recognition and high-profile internships. Your support, along with the commitment of our students, faculty and staff, is a key component to our continued success. Thank you.
Best Regards,
Hisham Hegab, Ph.D.
Dean and Max Watson, Sr., Professor
Publication Date
Spring 2019
Recommended Citation
McKnight, Brandy and Garcia, Estevan, "College Report Spring 2019" (2019). College of Engineering and Science Annual Reports. 8.
https://digitalcommons.latech.edu/coes-annual-reports/8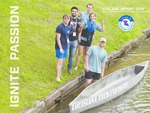 COinS