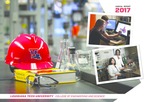 Title
Description
Dear Friends,
I am pleased to say the College of Engineering and Science (COES) at Louisiana Tech University is breaking new ground in a variety of ways. We are thrilled to announce that our new Integrated Engineering and Science Education building will likely start construction at the beginning of next year. The new 128,000 square-foot facility will greatly enhance our ability to provide an unparalleled education to our students and help attract the best faculty and staff to support our College's future growth.
We are also breaking new ground in our College's academic programs. Our newest bachelor's degree program, Instrumentation and Control Systems Engineering Technology, started this fall and now provides our engineering technology students a project-based, hands-on freshman curriculum similar to the Living with Lab curriculum that is taken by our first-year engineering majors. Our first in the nation bachelor's degree program in Cyber Engineering is off to a solid start and continues to grow while it undergoes its initial accreditation review by ABET this year. We have recently expanded our online programs to offer a master's degree in industrial engineering, as well as a graduate certificate in Six Sigma Black Belt training.
As you will read in this report, our students are leading the way by establishing new student organizations like our Aerospace Engineering Club, creating new products and services through innovation and serving the people of our community. Our faculty are passionate about working with these students to help them become our country's future leaders in engineering and science. We are particularly excited to have 19 new faculty in the College bringing their new ideas and energy to help us expand our efforts.
As we continue to break new ground in preparing the BEST engineers and scientists for tomorrow, I would encourage you to stay connected with us, and I invite you to visit us in Ruston and see the impact that our students, faculty and staff are making in this world.
Best Regards,
Hisham Hegab, Ph.D.
Dean and Thigpen Professor
Publication Date
Spring 2017
Recommended Citation
McKnight, Brandy and Garcia, Estevan, "Annual Report 2017" (2017). College of Engineering and Science Annual Reports. 7.
https://digitalcommons.latech.edu/coes-annual-reports/7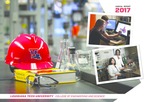 COinS