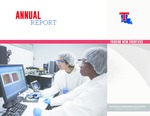 Title
Description
Dear Friends,
It has been another exciting and productive year for the College of Engineering and Science at Louisiana Tech University. Our students and faculty continue to have an impact internationally, nationally, regionally and locally as you will read in many of the articles in this year's annual report. As we begin the 2016-17 academic year, we are welcoming our largest and probably most highly qualified class of freshmen. The average ACT score of our 800+ incoming freshmen is 26.1, and nearly 300 of them are part of the College Honors Program. It will be exciting to see the new ideas and enthusiasm these students bring to our College during the next few years.
I believe these students are choosing Louisiana Tech because we provide an unparalleled, integrated educational experience not found in most engineering and science programs across the nation. Starting this fall, the Living with Cyber curriculum is being implemented for all incoming Computer Science and Cyber Engineering majors. Modeled after our internationally recognized Living with the Lab engineering curriculum, this year-long series of courses teaches fundamental concepts and skills such as algorithm design, data structures, computer architecture and programming through engaging, hands-on projects to provide relevant frameworks for their applications.
To further expand our capability to offer exciting curricula like with Living with Cyber, we hope to break ground on the new Integrated Engineering and Science Education Building this academic year. The $37million facility will provide the College an additional 128,800 square feet of classrooms, laboratories and project spaces, and it will be located on Dan Reneau Drive near Nethken and Bogard Halls. This new space is critically needed, as we have experienced a 25 percent increase in College enrollment over the past three years as well as a 75 percent increase in our incoming freshman class during the same period.
The leadership of our College is dedicated to this mission and has revised our strategic plan to focus on five critical initiatives to continue to advance our College's prominence in integrating engineering and science in education and research. These focal areas are student learning and success, student quality and outreach, research and economic development, national recognition, and promoting diversity and inclusiveness. I invite you to join with us as we continue to strive to prepare the BEST engineers and scientists for tomorrow.
Thanks again for your unwavering support of our students, faculty and staff.
Best Regards,
Hisham Hegab, Ph.D.
Dean and Thigpen Professor
Publication Date
Spring 2016
Recommended Citation
McKnight, Brandy and Garcia, Estevan, "Annual Report 2016" (2016). College of Engineering and Science Annual Reports. 6.
https://digitalcommons.latech.edu/coes-annual-reports/6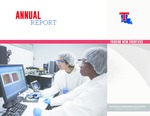 COinS