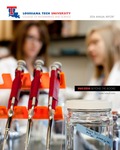 Title
Description
Dear Friends,
As an alumnus and 19 year member of the faculty at Louisiana Tech University, I am invested and passionate about our College's role in preparing the BEST graduates to respond to the needs and challenges of our ever-changing world. I believe my mechanical engineering degree from Louisiana Tech provided me with that preparation, and I aspire for us to continue to build and enhance our legacy of innovation and leadership in engineering and science education. We are also focused on transformative research that leverages our strengths and strategic opportunities. Both of these priorities are elevating our national recognition as evidenced by our University's consistent rise in national, rankings despite the challenges of higher education budget cuts.
While there have been many changes and challenges for our College this past year, there are still many exciting accomplishments to report. Our theme for this annual report is "Success Beyond the Books," as we have highlighted a variety of programs and activities that provide our graduates with learning experiences that go beyond just a classroom lecture. This fall, we are expanding our highly successful hands-on, project-driven "Living with the Lab" first-year curriculum and piloting a first-year "Living with Cyber" curriculum for our Computer Science and Cyber Engineering students. Our student organizations continue to be highly active and engaged, participating in regional and national conferences and competitions such as our American Society of Civil Engineers concrete canoe team (Deep South Conference winner), American Institute of Chemical Engineers senior design team (first place at National Spring meeting), Eco-marathon team (Design award winner), Society of Women Engineers (National Outreach Award), National Society of Black Engineers (two time National Chapter of the Year), and Cyber Engineering forensics team (fourth place national competition).
In graduate studies and research, we are continuing to produce outstanding interdisciplinary graduates at the masters and doctoral levels, and we graduated 20 Ph.D. students during 2013-14, with over $16 million in research expenditures in the previous year. Our faculty continue to make national and international news for their research as they fulfill our vision for being the best college in the world at integrating engineering and science in education and research.
Our "beyond the books" experiences are fueling an increasing demand for our programs. Last fall, we experienced a nearly 30 percent increase in our first-time freshman enrollment in the College, and, based on orientation registrations this summer, we expect another 20 percent increase this fall. I am thankful for the outstanding support of our Engineering and Science Foundation Board in successfully completing our Capital Campaign for our new Integrated Engineering and Science Education Building. It will provide critically needed space to support our "Living with the Lab" and "Living with Cyber" curricula.

I hope you enjoy reading about the many successes of our faculty and students in this report. Their hard work continues to grow the prestige and legacy of our College producing the
Best Engineers and Scientists for Tomorrow.
Sincerely,
Hisham Hegab,
Dean and Thigpen Professor
Publication Date
Spring 2014
Recommended Citation
McKnight, Brandy and Garcia, Estevan, "Annual Report 2014" (2014). College of Engineering and Science Annual Reports. 4.
https://digitalcommons.latech.edu/coes-annual-reports/4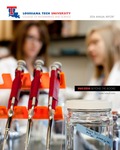 COinS