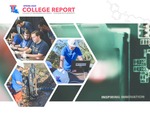 Title
Description
Spring Quarter presented unexpected challenges for Louisiana Tech and the College of Engineering and Science. Efforts by the State of Louisiana to mitigate the spread of the coronavirus changed the way professors offered classes and students learned, as all classes within our College, including labs, were moved online in an extremely short time. Many of our traditional events were canceled or postponed, and students, faculty and staff missed opportunities to gather as we shifted to an online community. We have met these setbacks with the flexibility and innovation that define engineering and science at Louisiana Tech.
As you read our 2020 Spring College Report, you'll see examples of faculty and students who inspire innovation through their hard work and unique perspectives. We highlight two professors who are leading their fields in world-changing research. Dr. Amin Amir and a team of interdisciplinary students and faculty are designing a new method for Facebook to lay fiber optic cable. Dr. Kasra Momeni is leading multiple grants that will have applications in a variety of fields, including in-space manufacturing and quantum computing.
You'll learn about senior chemistry student Sierra Napoleon's experiences in research and about the unique experiences provided by our Grand Challenge Scholars Program and our annual Cyber Storm hackfest.
I am proud of the work that Engineering and Science students, faculty and staff have done for the 2019-2020 academic year and their perseverance during the Spring Quarter.
-Hisham Hegab, Ph.D., Dean and Max Watson, Sr., Professor
Publication Date
Spring 2020
Recommended Citation
McKnight, Brandy and Garcia, Estevan, "Annual Report 2020" (2020). College of Engineering and Science Annual Reports. 10.
https://digitalcommons.latech.edu/coes-annual-reports/10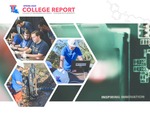 COinS